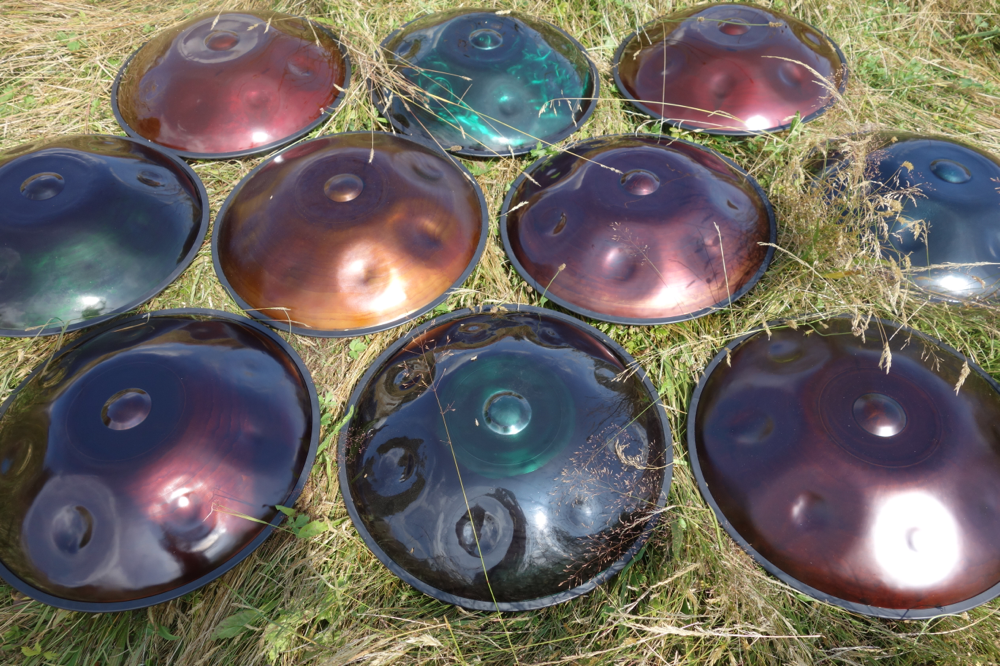 I am happy to announce my cooperation with Mayiia.
The last weeks where dedicated to the creation of these 10 Instruments - they will be available for the upcoming workshop Mayiia will give in the area around Berlin.
All of those instruments are compatible to another, jet every single one is in a different scale.
They are all based on aeolian minor, with a C3 Ding.
All have been laquered with japanese Urushi - here are some impressions of the different colors - 
What you see here seems like a plain presentation, but its also the last important step in the manufacturing process:
The Instruments are placed into the hot and direct Sun for one or two entire days ( they are left outside in the night, since they are totally rust-resistant ).
The direct Sun will heat the instrument up to 60 - 80 degrees max. wich - when holded for a longer time-period - is enough to release some internal stresses that might not have been resolved until now. This will increase the tone-stability. 
After this, a very last fine-tuning will be done and the instruments will be ready.
Even though this is done, I still highly recommend to not place the instruments into direct hot sunlight - remember, those are LUNAE - they prefer shadow.
Some videos will follow.
Very best greetings,
Sebastian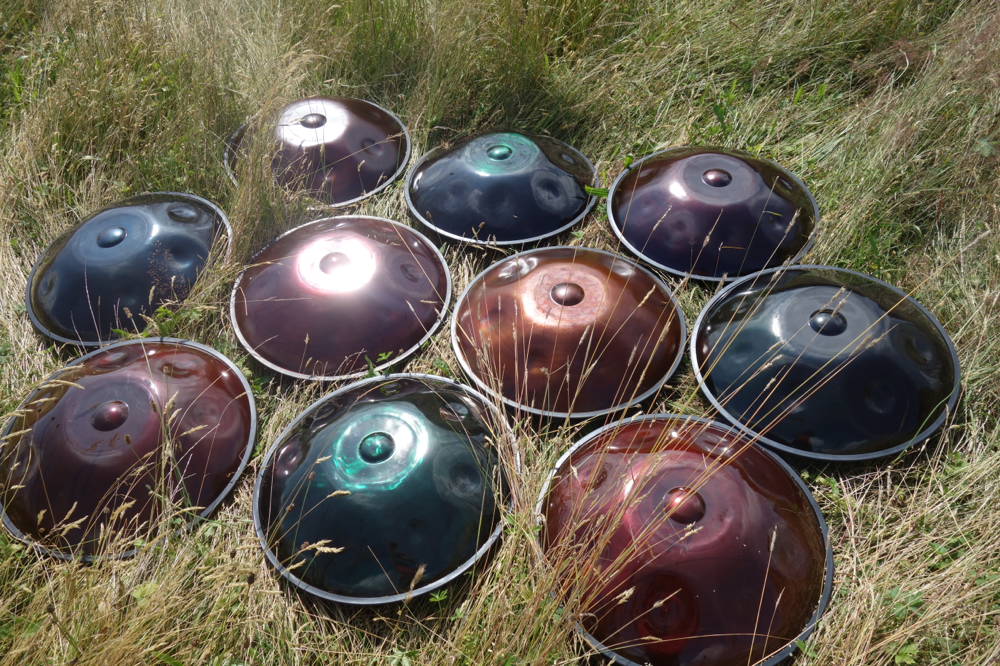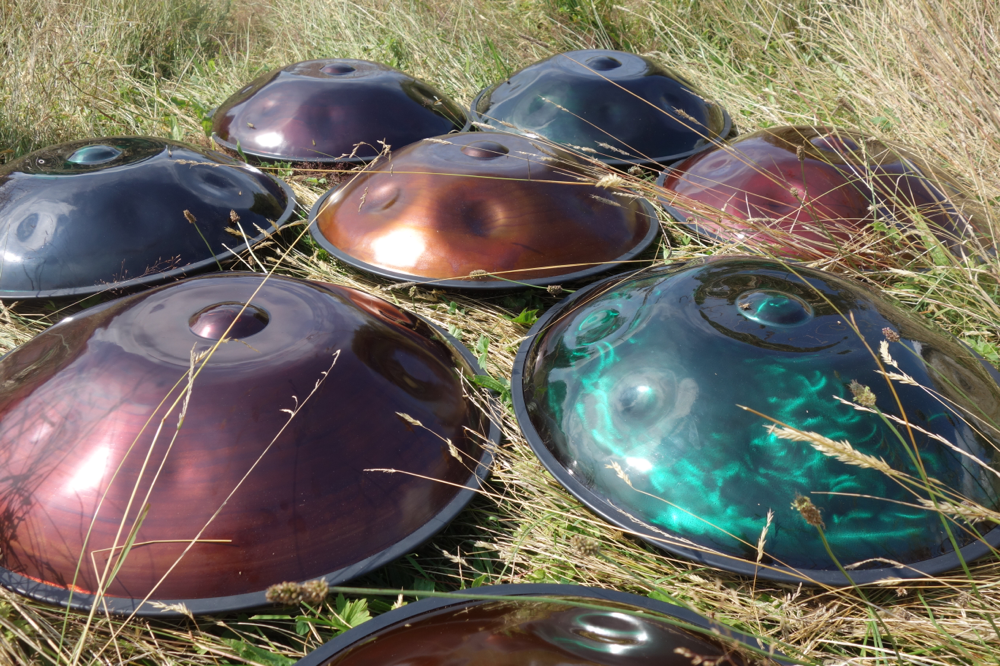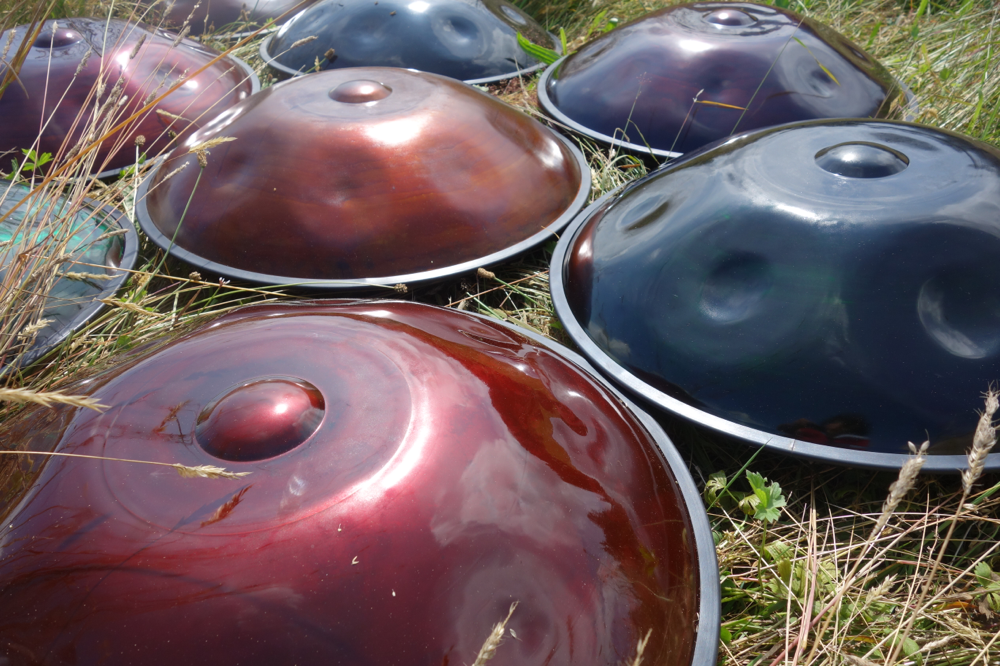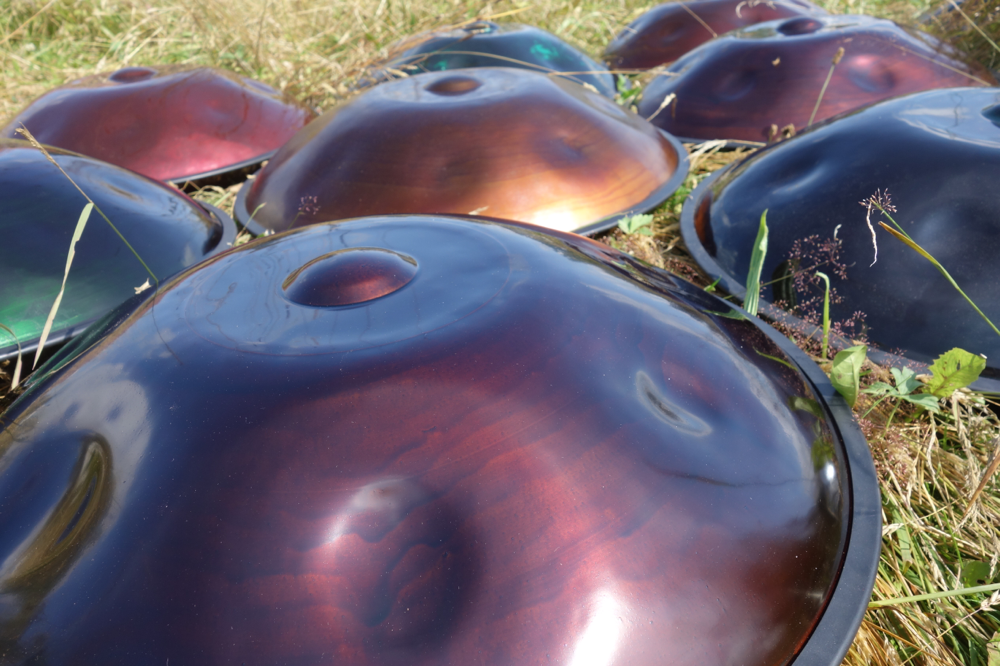 Ich freue mich sehr meine Kooperation mit der brandenburger Musikerin Mayiia anzukündigen.
Hier ist das Resultat der Arbeit der letzten Wochen - 10 Instrumente für die kommenden Handpan und Gesang-Workshops von Mayiia.
Alle 10 Instrumente sind kompatibel zueinander und basieren auf der aeolisch-Moll Skala, mit C3 als Ding-Ton.
Hier ein kleiner Eindruck der verschiedenen Urushi-Lackierungen.
Die Instrumente werden nun noch für ein bis zwei Tage der starken Sommer-Sonne ausgesetz, wobei sie sich auf c.a. 60 bis 80 Grad erhitzen. Über einen längeren Zeitraum hinweg ist diese Temperatur ausreichen um noch verbliebene Spannungen im Material schneller abzubauen - anschließend folgt ein letzter Feintuning-Prozess und die Instrumente sind fertig.
( obwohl ich dies als kontrollierten Schritt bewusst in meinen Prozess einbaue, rate ich dringend davon ab die Instrumente der direkten Starken Sonneneinstrahlung auszusetzen. Metall absorbiert Infra-Rot Strahlung sehr stark und heizt sich schnell auf, was zu einem Arbeiten des Material und zu einer Verstimmung führt. Nachdem ich diesen Prozess bewusst durchgeführt habe sollten Verstimmungen in der Regel wieder zurückgehen nachdem sich das Instrument abgekühlt hat. Dennoch ist es ratsamer das Instrument nicht derartig starken Temperaturschwankungen auszusetzen und ihm wenn möglich einen Schattenplatz im Sommer zu gönnen. )
Videos folgen bald.
Beste Grüße,
Sebastian