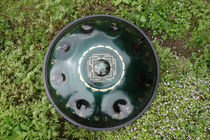 The Yin Mei Scale is LUNA-Scale wich is a Minor aeolian Hexatonic, with a very distinctive mystical flavor.
It evokes images of mystic nights, of space, stars and the moon - the hidden origin of everything.
Its character is obscure and dreamlike, but still keeps balance because of the missing minor third.
The design was applied with gold powder and was special requested to make this handpan an individual beauty.
Thanks to Xing Cen for this request - it was a pleasure to build this Handpan for you.
Build in South-Germany ( Süddeutschland - Bayern ).